Solid Forklift Tyres - Superior Quality
Forklift Tyres
the foremost ordinarily used tyre type is solid tyres, sometimes mentioned as solid resilient tyres. These appear as if normal tyres but are made up of solid rubber material so aren't inflated/air filled like pneumatic tyres. they're therefore puncture proof and wear alright extending the tyres lifetime. The inner section of solid tyres is usually a soft compound, which provides some cushioning/suspension, with an outer layer on top made up of rubber. These are major criteria to the trucks make, model and age.
Velox Press-On Tyres are made up of unique tread compounds, superior quality bonding agents and compounds to form sure fool-proof bonding between the rubber and rim, yielding long life for the tyres. The rim of the Press-on tyre is made of high-quality steel, maintaining close dimensional tolerances to avoid operational play and resultant wearing of Tyre.
Non-Marking Tyres are made with separate compounding for inner components and outer components. The special properties are to avoid carbon marking from carbon particulars. This range of solid tyres has one of the absolute best resistances of cracking and tearing.
Features:
They are extremely stable altogether, easy maintenance and cost-effective.
Solid Tyres are extremely economical and withstand any kind of load.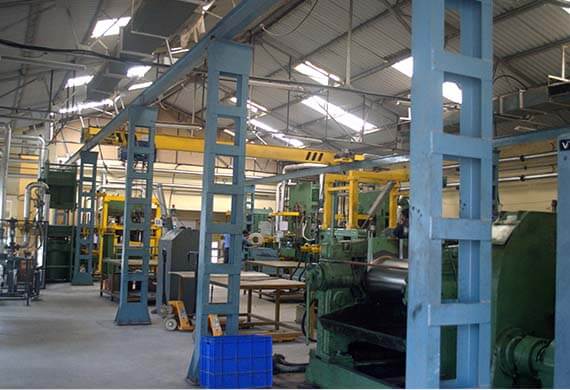 Applications:
Warehouse Equipment
Industrial Trailers
Fork Lifts
Baggage Trolleys
Pallet Trolleys
Reach Stackers
Aircraft Support Equipment
Ground Support Equipment
Platform Trucks, Port Trailers
Advantages:
High elasticity
Heat dissipation
Wear resistance
Better stability
Larger area and better grasping ability.