PRESS-ON TYRE
Description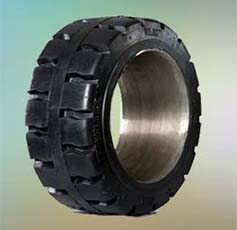 Velox Press-On Tyres are made of unique tread compounds, superior quality bonding agents and compounds to ensure fool-proof bonding between the rubber and rim, yielding long life for the tyres. The rim of the Press-on tyre is made of high quality steel, maintaining close dimensional tolerances to avoid operational play and resultant wearing of Tyre. Note: HUB TYPE: The Press-On Tyres also available in Hub Type which make the assembling convenient and easy. Customized sizes and shapes can be made for bulk orders
RANGE OF VELOX PRESS-ON TYRES-SIZE & DIMENSIONAL DETAILS
Tyre Code
Tyre Size (Inches)

Up to 10 kmph
Load Wheels
Steering Wheels

Up to 16 kmph)
Load Wheels
Steering Wheels

VP 08240040
8-1/4X4X4
700
590
625
480
VP 09050050
9X5X5
960
790
855
720
VP 10040062
10X4X6-1/4
780
4.50
700
590
VP 10050062
10X5X6-1/4
1030
840
915
770
VP 10060062
10X6X6-1/4
1270
1040
1135
950
VP 15440122
400X100X310
1370
1130
1250
1070
VP 15450120
400X128X305
1540
1250
1370
1130
VP 16050103
16X5X10-1/2
1510
1240
1345
1130
VP 16060103
16X6X10-1/2
1910
1570
1710
1435
VP 16250112
16-1/4X5X11-1/4
1530
1250
1360
1145
VP 16260112
16-1/4X6X11-1/4
1920
1580
1715
1440
VP 17250112
17-1/4X5X11-1/4
1710
1400
1555
1275
VP 18050121
18X5X12-1/8
1640
1350
1470
1230
VP 18060121
18X6X12-1/8
2100
1720
1870
1575
VP 18070121
18X7X12-1/8
2550
2100
2280
1910
VP 18080121
18X8X12-1/8
3000
2475
2680
2250
VP 18090121
18X9X12-1/8
3450
2850
3090
2600
VP 21050150
21X5X15
1910
1490
1640
1360
VP 21060150
21X6X15
2400
1980
2100
1790
VP 21070150
21X7X15
2875
2350
2560
2150
VP 22060160
22X6X16
2450
2000
22180
1830
VP 22070160
22X7X16
2975
2450
2650
2230
VP 220801603
22X8X16
3500
2875
3130
2625
VP 22090160
22X9X16
4050
3325
3600
3025
VP 26060200
26X6X20
2750
2240
2470
2060
VP 26070200
26X7X20
3390
2775
3000
2510
Applications
Fork Lifts
Ground Support Equipments
Platform Trucks, Port Trailers
Warehouse Equipments
Industrial Trailers
Baggage Trolleys
Pallet Trolleys
Reach Stackers
Air Craft Support Equipments
Features
Velox Press-on Tyres are made for battery operated forklifts with special bonding agents to zero-down the bonding failures.
For battery operated forklifts, the life of the battery is more important. To meet this requirement our tread compound design and tread design ensures lesser rolling resistance and optimum grip without compromising on load carrying capacity.
The steel band used in these tyres are made with zero tolerance for exact fitment.