PRESS-ON NON MARKING TYRES
PRESS-ON NON MARKING TYRES
Description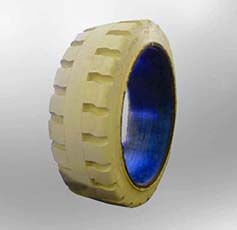 Velox Non Marking Tyres are manufactured with separate compounding for inner components and outer components. The special properties are to avoid carbon (black coloured) marking from carbon particulars. To make this possible, both tread and second sidewall are compounded without use of carbon blacks. This range of solid tyres has one of the highest resistances of cracking and tearing. Note – Customized sizes and shapes can be made for bulk orders.
Applications
Fork Lifts
Ground Support Equipments
Platform Trucks, Port Trailers
Warehouse Equipments
Industrial Trailers
Baggage Trolleys
Pallet Trolleys
Reach Stackers
Air Craft Support Equipments
Features
Non Marking tyres are manufactured from non-carbon black fillers to avoid black marking in the floor while using the forklift inside the factory.
Non Marking tyres are manufactured with reinforcing white fillers and necessary chemicals to give same life as that of tyres with carbon black fillers.
These tyres are largely used by food processing industries, beverages & bottling plants where clean environment is very important.
To match the surface/vehicle, we offer four different colours of tyres to suit the requirement.
Three Layers